Good morning! It's been quiet around here! We really enjoyed Christmas break, some down time, and just hanging out. I hope you all did too! But I'm back at it and today we're kicking off the January countdown over at Papertrey Ink! Amazing things again this month that I've been having so much fun creating with! It's January, so that means we'll be wrapping up all of our year-long monthly series, which is always kind of sad!
I'm showcasing several new products in today's projects, including a new set from me called Let's Fiesta. It's filled with fun images that have a south-of-the-border vibe, and are perfect for bright celebratory projects and a whole lot more. We're also showcasing this month's Shape Shifter, which is the fourth and final square (and final set in the Shape Shifter line-up!). I'm also using this month's Corner Adorner which is full of fun confetti.
You can see all of today's products in full here on the Papertrey Ink blog. They'll be available for purchase from the Papertrey Ink store starting at 10pm ET on January 25th.
I have a handful of cards to show you these new goodies in action...I loved creating with them! First up is a really bright and festive card using this month's Corner Adorner, the Shape Shifter Square, and Let's Fiesta.
I started out by stamping and heat embossing the confetti corners from the new Corner Adorner. Then I blended some bright coral and yellow inks. I used just the pretty center from the new Shape Shifter: Square die to cut the medallion from the center. I also stamped the "celebrate" sentiment in black, which is also from the Corner Adorner set.


To really dress up the top, I diecut and stamped a bunch of the pinwheels from the new Let's Fiesta set. I love how these turned out...even better than I was imagining when designing them! Gotta love when that happens. The two step images really make it come to life and give it dimension, even though it's nice and flat, unlike a traditional fan-fold pinwheel. I also cut some thin strips of light-weight copy paper and curled them around the end of a paintbrush to create the streamers. (there went my flat mailable card, but I couldn't help it!) :-)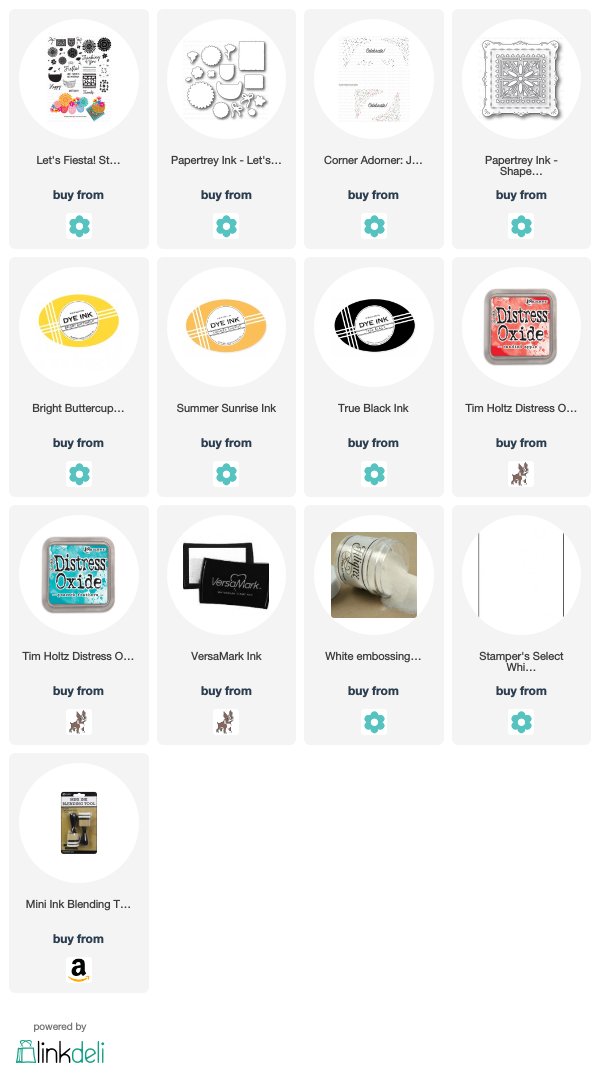 Up next is another card that uses the new Let's Fiesta set. I also used the new Shape Shifter Square, but this time I used it a bit differently. I used just the center pattern insert and created my own stencil out of copy paper, by cutting it repeatedly. Then I sponged ink over the top. I love how that turned out!
I cut an oval from my stenciled panel using some new Nesting Basics Oval dies coming your way this month, and did some sponging behind, along with a sentiment from the set, stamped in black.


Across the top I strung some banners from the set, and I clustered some of the little flowers from the set along the bottom.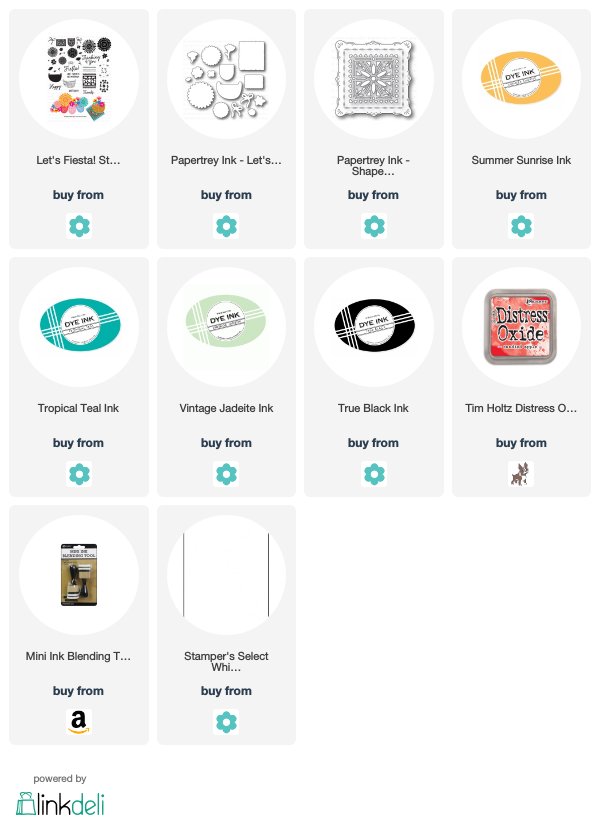 There are lots of fun images in the Let's Fiesta set that make it great for lots of different occasions. Here I used the colorful rug/tapestry along with the basket to create a fun scene.
I trimmed the points off of a toothpick to add behind the tapestry to act as a dowel to "hang" it from a brad. I knotted some twine around the ends of the toothpick, then tucked it around the brad. Behind the tapestry is the new Shape Shifter: Square 4. This time I used all three dies from the set together. Besides the pretty inside cut, there's a stitched border and a pretty outer frame.


The basket was stamped with Classic Kraft and Cocoa Bean inks. I added a small shadow under the basket by stamping one of the ovals from the In the Shadows set with Soft Stone ink. The "happy birthday" sentiment is also from the Let's Fiesta set.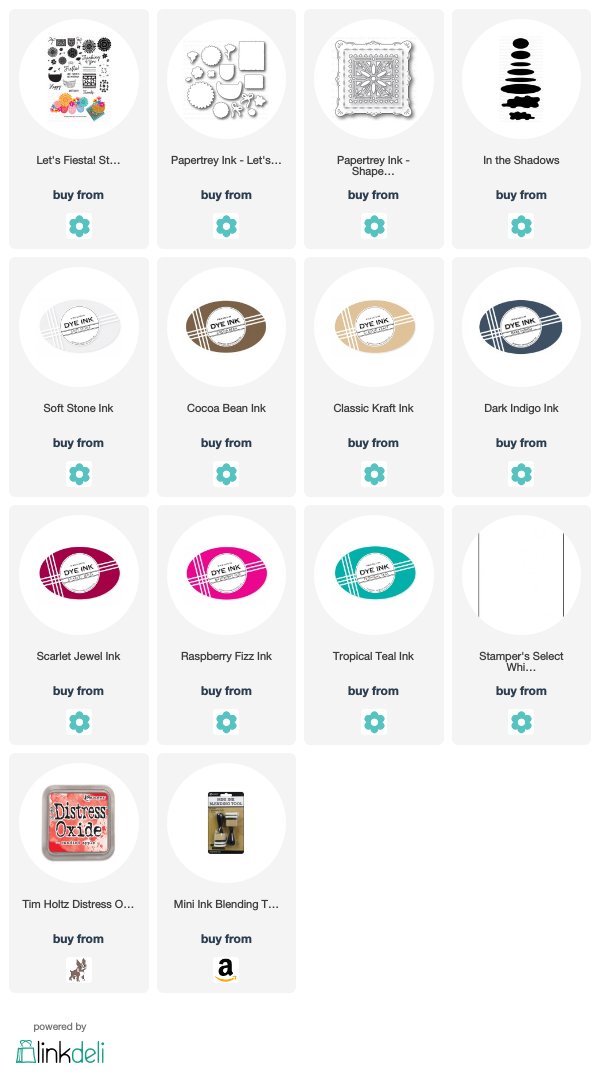 My last card for today is a little softer take on the Let's Fiesta set. I started with a white card base and layered a Shape Shifter: Square 4 white diecut over the top.
I strung some banners from the set, and also the basket and some flowers. This time I decided to put the tapestry under the basket. The tapestry is fun to stamp and play around with color combinations!

I finished it off by stamping another sentiment from the set, this time the "thinking of you".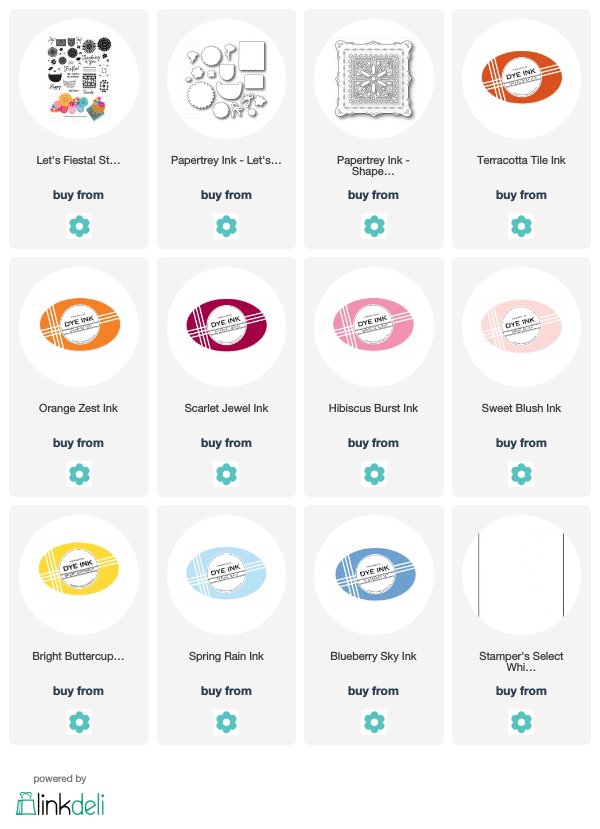 That's my projects for today! I hope you enjoyed today's projects and I hope they helped to brighten up your day...it's cold and wintery here, so I'm loving the bright colors!