Are you ready for Day 2 reveals of the December Papertrey Ink countdown!? First though...are you getting to enjoy the holidays? Or are you too busy? We've been feeling overwhelmed around here lately, but last night we got to sit and listen to nearly two hours of beautiful Christmas music. So great to just be able to relax and enjoy one of my favorite things about Christmas. I hope you're finding some peace and quiet in the midst of the holiday rush.
Now might be a good time for a break from the busyness...come and join the design team as we share some projects using the new December stamps and dies! Today' we're showcasing a fun new heart-shaped floral cluster by Lizzie, a super clever and fun Valentine set by Lexi called Perfect Match, and the latest addition to Lizzie's great new Nesting Basics series...circles!
You can see all of today's product reveals in full right here on the Papertrey Ink blog. Everything will go live in the Papertrey Ink store at 10pm ET on December 15th.
I have just a few projects for you using these new products.
First up is a fun little card using the new Love In Bloom set. This set features a multi-step floral heart that's really fun to stamp and play around with color combos.
One of my favorite little tricks or techniques with flowers like these is to add a few of my own details with pen. It just adds a little pop of color and added detail, and it's so easy to do. I also added some yellow Nuvo drops to the flower centers.
I made this a narrower than usual card, and nested the diecut heart back inside the negative, letting the diecut extend beyond the card edges. The simple "congratulations" sentiment from the set finishes it off.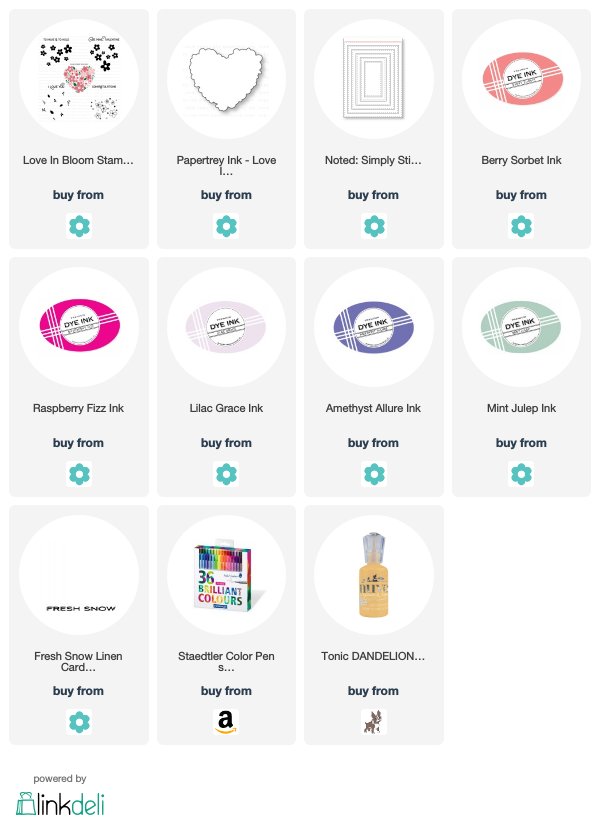 Next I have some fun Valentine treats using the new Perfect Match set. This set is just too cute! I used the previously released Matchbook Medley die collection along with this set to make some cute wraps for boxes of Hot Tamales (one of my faaaaavorite candies!)
The cover of the Matchbooks was stamped with the new Text & Texture: Bokeh set. I masked off a circle using the new Nesting Basics: Circles set, and diecut the pierced border using the new Nesting Basics: Pierced Circles. I think it has a fun vintage-y vibe! I wrapped patterned paper around the Tamale boxes, and tied the matchbooks to the boxes with some bright red curling ribbon.
The inside is so fun, using the dies from the new Perfect Match set. How fun is that?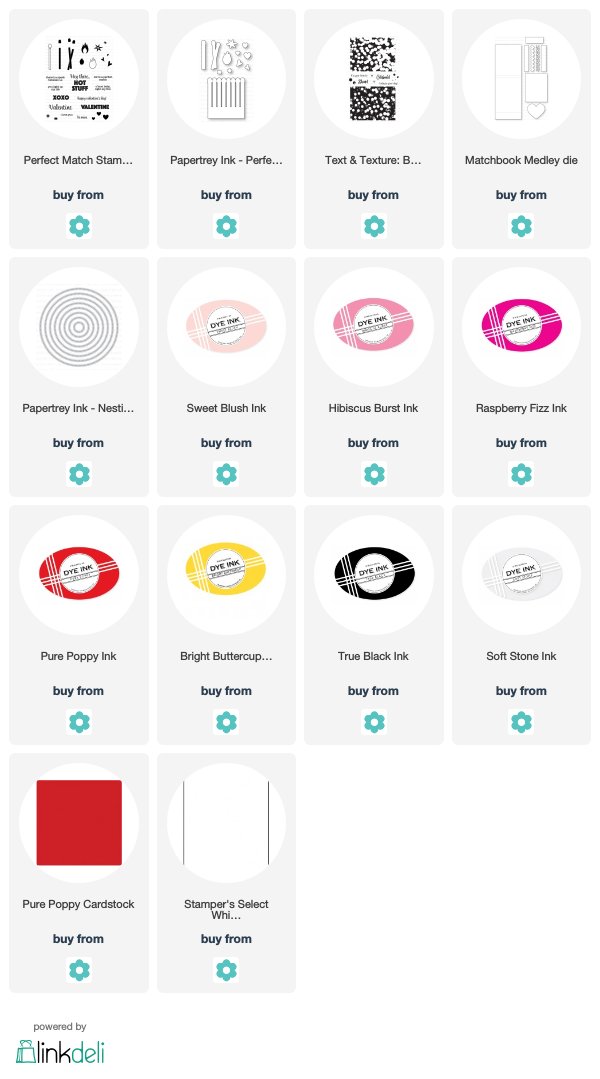 Today's new products were so fun to create with! I hope you enjoyed this little peek!