We've made it all the way to the last day of the Papertrey Ink July countdown!  I'm really excited about the sets we're showcasing today!  One of them is something I designed called Orchid Expressions...it's a fun, somewhat abstract take on pretty orchids.  We're also showcasing this month's Words to Live By set, some pretty Botanical Bounty Sentiments, plus more new frame dies! 
Everything being showcased today can be seen in detail HERE, and will be available for purchase beginning at 10pm ET on July 15th from the Papertrey Ink website.
Let's get on to the projects...I have so much to share with you today, but I didn't want to give it away earlier in the countdown!  :-)  This first card uses my new Orchid Expressions set.  This set is taken directly from some orchids that I watercolored, and turned into stamps, so you get a really fun, realistic watercolor look with minimal effort! 
The blooms are three steps, and they're very easy to line up.  I have a little process video of me stamping them for one of my cards today that I'll post on Instagram at some point today.  You can choose to use them with the short stem that's included in the set, or the longer stem along with the pot and the bamboo stake like I did here.  There are even little "strings" you can add  to "tie" the stem to the bamboo.
The orchids also look great with this month's Shape Shifter Square 2 die, which was a geometric pattern that really works well with the orchids.  The sentiment I used here is also from the Orchid Expressions set, stamped onto a small oval, which was cut with the Noted: Scalloped A2 die set.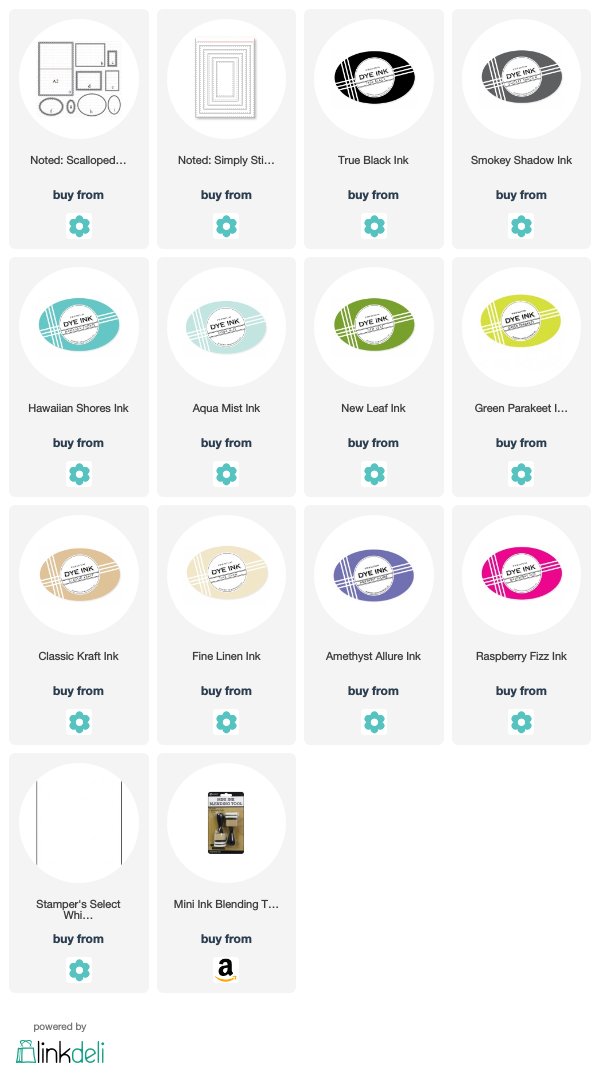 The next card I have for you uses the orchids from Orchid Expressions as just the stems, without the pot.  I paired them with the new Botanical Bounty Sentiments and the scalloped frame, which is a new die called Scallop Stackers.  There are two sizes of Scallop Stacker dies being released this month - I used the Large set here.
I used the ombre watercolor technique that I shared in last week's Make It Monday video to add some color to the scallop frame.  I also stamped some of the orchids onto my card base before layering the scalloped die over the top.  

The orchids here were stamped with Sweet Blush, Pale Peony, and Berry Sorbet inks.  Such a soft, pretty sympathy card...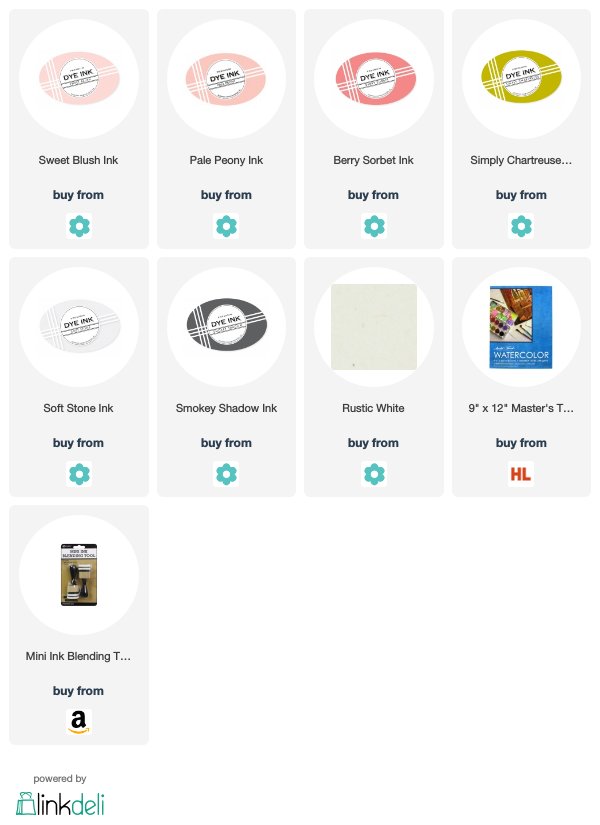 My next card uses Orchid Expressions again, this time combined with the new Words to Live By: Inspire.  These two sets go so well together, with the watercolor look of the flowers.  But there are lots of ways other than art and creativity in which people can inspire us...maybe it's a teacher that gives their heart and soul, or someone suffering through an illness.  
For this card, I stamped the orchids directly onto a panel of linen cardstock.  I wanted a really soft look, so instead of using different shades of ink for each of the three steps needed to stamp the blooms, I used just a single color.  I started by stamping what would normally be the middle layer.  I stamped this full strength, using Aqua Mist, Sweet Blush, Lilac Grace, or Limeade Ice inks.  Then I stamped the bottom, most solid layer, which would normally be the first layer you'd stamp.  I stamped off onto scrap paper before stamping it onto my project for a lighter look.  I did it in this order because stamping the first layer first with that pale color would have made it more difficult to line up that second layer, since it's so light.  It was easier to line up this way.


The sentiment was stamped in Smokey Shadow and Lilac Grace inks.  I diecut the finished panel using the Noted: Simply Stitched die and added it to a Lilac Grace card base.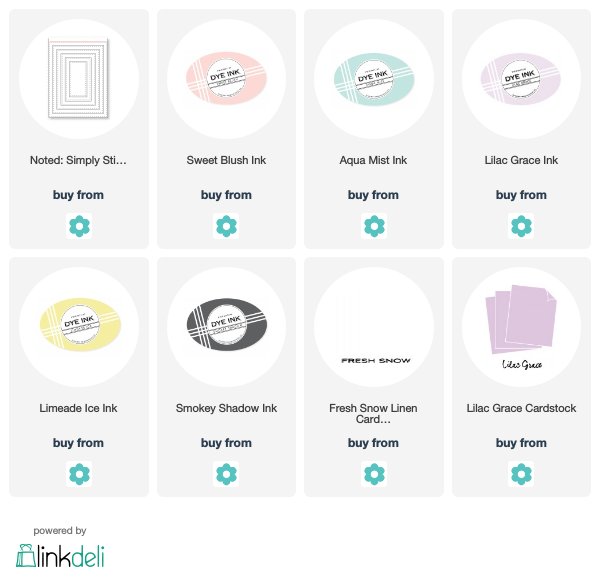 This last card is similar to the one above, but I wanted to play around with some more vibrant colors for the orchids.  The type of orchid in this set is called dendrobium orchids (or dendros as we used to call them for short in the flower shop!), and if you do a quick internet search you'll see that they come in some pretty bright, wacky colors!  Purples, blues, even green!
I used Hawaiian Shores, Amethyst Allure, Royal Velvet, Raspberry Fizz, Limeade Ice, and Tropical Teal inks here for the blooms and used the shorter stem included in the stamp set.


I stamped another sentiment from the Words to Live By: Inspire set.  This would be great to send to a crafty friend, or maybe someone that inspires you in another way.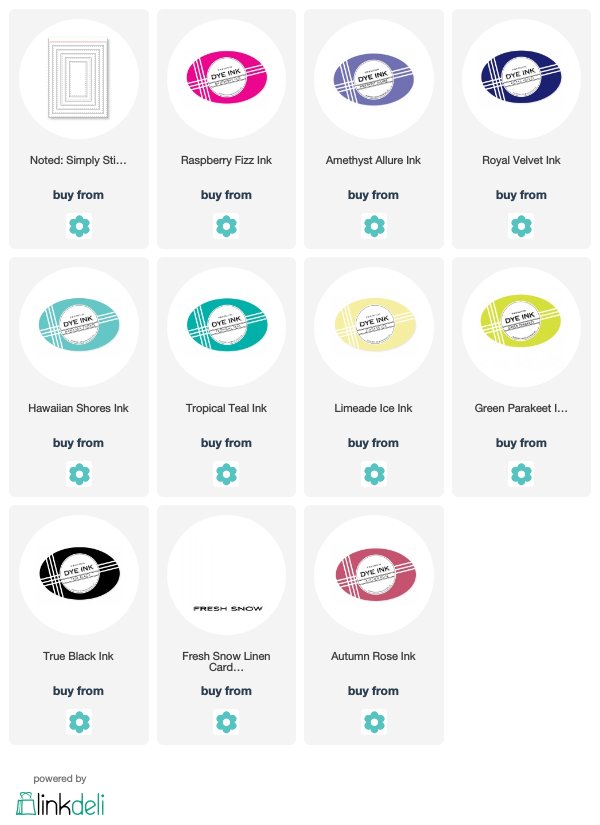 I can hardly believe it, but that brings us to the end of the countdown already!  But the good news is, it's almost shopping time.  All of the new goodies will be available in the store tomorrow night, starting at 10pm ET!