It's Day 2 of the Papertrey Ink July countdown!  We have some happy sunshine-y new projects and products for you today!  We're introducing a new collection by Rebecca called Yellow Sunshine, and this month's Bold Borders die, called Bold Borders: Prism.  These new products can be seen in detail HERE.
Everything mentioned as "new" in today's post will be available for purchase beginning at 10pm ET on July 15th from the Papertrey Ink website.  
My first card today uses the fun new Yellow Sunshine stamp set and jumbo raindrop die.  I started off by diecutting that fun raindrop die from the center of a panel of linen cardstock.  I took the cut-out pieces and sponged them with a rainbow of ink colors before nesting them back inside the panel.
Before adhering my panel to foam to the card base, though, I did some stamping and stenciling.  I stamped some clouds using the larger brushstroke images from the Yellow Sunshine set.  I stenciled some sun rays using the Sunburst stencil collection.  


I also added some stamped sentiments, also from the Yellow Sunshine set.  Such a fun and happy card!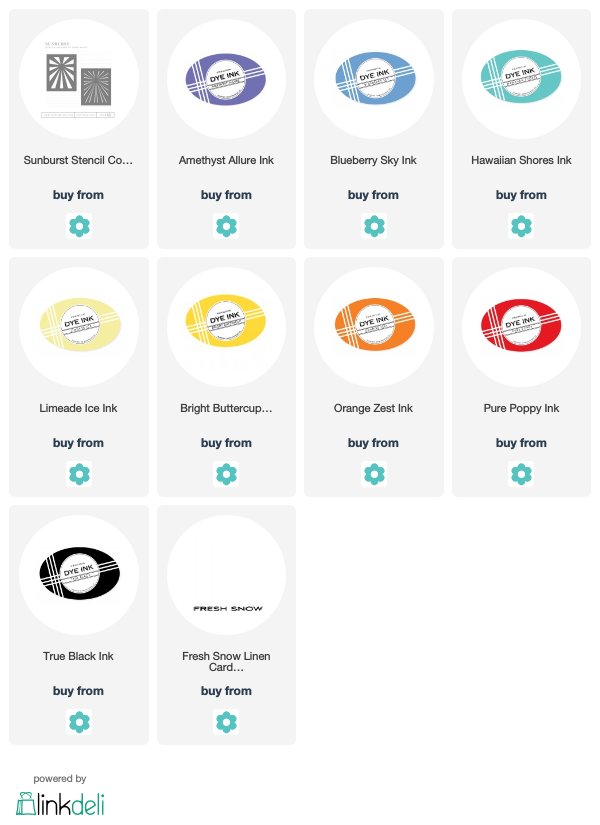 My next card is a pretty simple, one layer card using Yellow Sunshine with the Sunburst stencils, and some sequins for a bit of shine!


I started off by stamping some of the brushstroke/watercolor like images from the Yellow Sunshine set onto watercolor paper.  Then I took a wet brush and painted over them a bit so the ink colors would run into each other.  If you're not confident with adding watercolor accents like this freehand, this is a great option.  I then stenciled the sun rays around it and also added the sentiment, which is from the Yellow Sunshine set, using a combination of black ink and white embossing.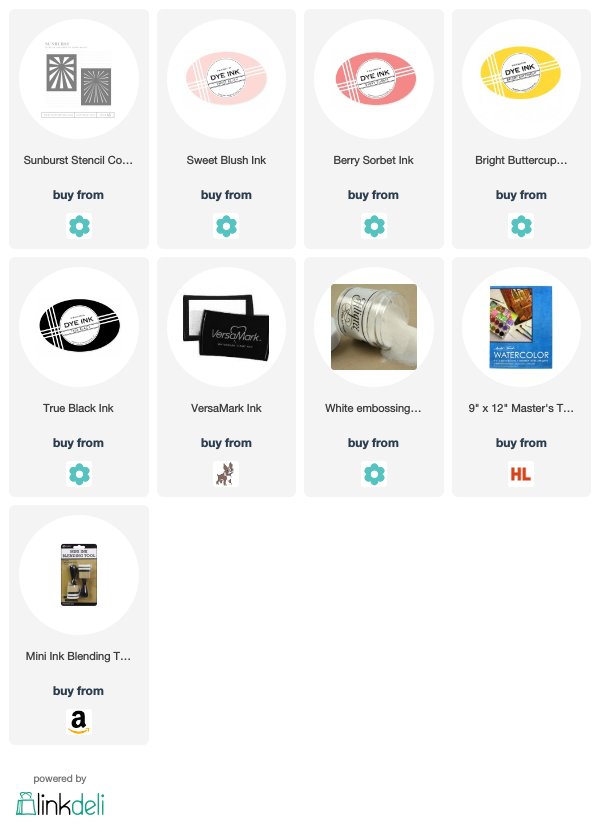 My next card combines the new Bold Borders: Prism set with some sentiments from the Yellow Sunshine set.  I decided I wanted to try and add some color to this die, but I wasn't sure I wanted to color all of those little pieces, so I got a little creative!  I found the Medallion Trio stamp set has a small stamp the coordinates really well with the cut-outs of the Prism die...they're not perfect, but close enough to make it work. 
To do this, I started out by embossing the Bold Borders: Prism onto a panel of white cardstock using the embossing mats and typical embossing sandwich.  I then used this embossing as my guide for stamping the petals with different colors.  They're not all perfectly aligned, but close enough to work for me!  :-)


When I was finished stamping all of the petals, I diecut the Bold Borders: Prism from white cardstock and layered it over the top.  I also diecut the "smile" word included with that die set and finished off the sentiment with some words from the Yellow Sunshine set.  It turned out to be a pretty fun technique that was quicker than coloring all of those bits and pieces by hand.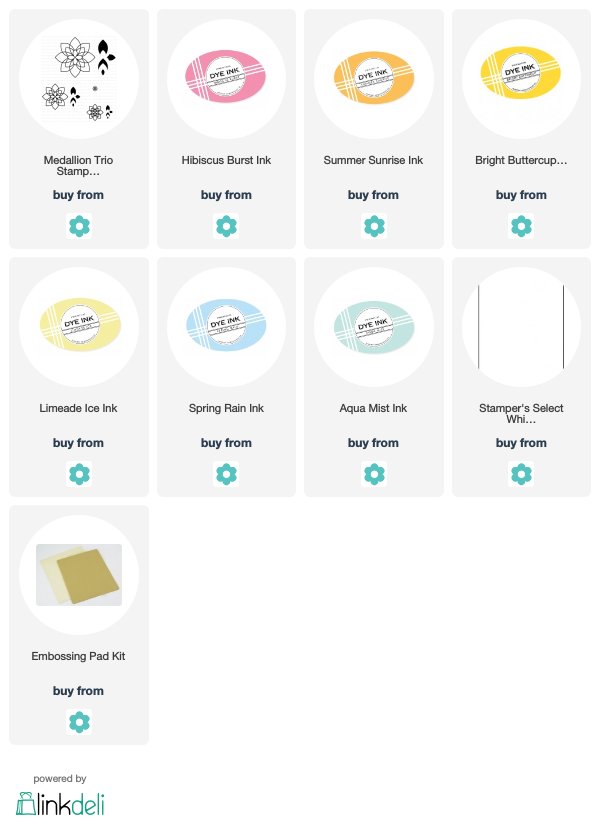 Thanks for stopping by to check out these sunshine-y projects today!  I hope they helped brighten your day just a bit!  I'll be back tomorrow with some more fun product introductions and lots more projects!