(this post contains affiliate links)
Papertrey Ink has released so many great die basics recently - the Mix & Mat collection, Shape Shifters, Feature Frames, Scallop Stackers and more!  They're all great on their own, but they're even more fun when you start playing around with mixing and layering the different sets!  The product designers rarely collaborate on the different designs we produce, but since all of our dies are based on a standard A2 card size, there's bound to be some amazing coordination between the various die collections!  I had fun playing around with some of the different options for combining die sets for a few projects today! 
Before I assembled each of my projects today, I took a photo of the different layers and labeled them so you could see exactly what die combinations I used.  This first card uses the new Pierced Feature Frames, the Noted Scalloped vertical die as a base, and Mix & Mat: Pretty Brackets.
Here is my finished card, all layered up, along with a stem of pretty orchids using my new Orchid Expressions set.  I love those new Pierced Feature Frames and how crisp and finished they look!  
Here I adhered the larger white pierced frame with some foam tape to add a little more dimension, then nested the smaller purple frame inside.  Just that little touch adds so much!


The white pierced frame is layered over the Mix & Mat: Pretty Brackets framer, allowing just those pretty scallops to show through.  And the largest Pierced Frame, cut from Lilac Grace cardstock is layered over a Noted: Scalloped A2 Vertical, and is the perfect size to let the scallops show from under the edge of the frame.  I finished off the card by stamping a thank you sentiment from the Orchid Expressions set and adding a few sequins for some sparkle.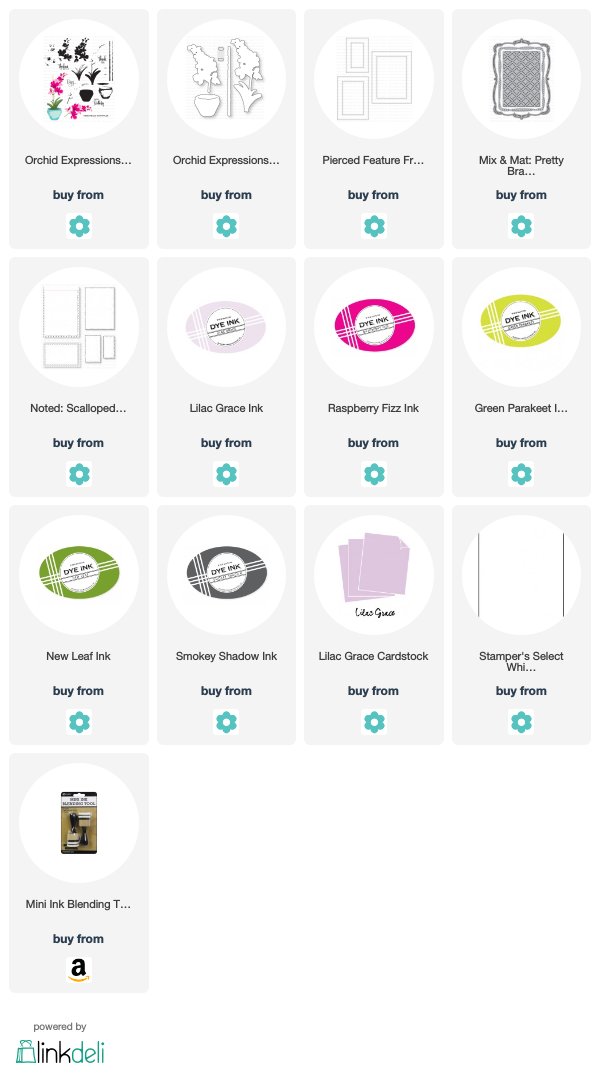 Here are all of the layers for my next card!  I pulled out the Shape Shifters: Oval 1 die, and paired it with the new Scallop Stackers: Medium and Pierced Feature Frames for some pretty, feminine layers.   
I combined those pretty layers into a wedding card using the Botanical Bounty II flowers and that cute "Mr. & Mrs." sentiment from the Botanical Bounty Sentiments set.  


Not only are these basic dies great for cutting frames to layer, but don't forget about using them to cut windows from other dies.  Here I used a rectangle from the Noted: Simply Stitched set to cut a window from my Shape Shifters: Oval diecut so that I could layer one of the Pierced Feature Frames over the top. 


The "mr & mrs" sentiment fit perfectly inside the smallest Pierced Feature Frame.  I layered lots of Botanical Bounty II flowers over the top, ,stamped in bright corals, yellows, and blues. The Scallop Stackers: Medium diecut is the final layer, cut from white cardstock and placed on a card base made from Dark Indigo for some striking contrast.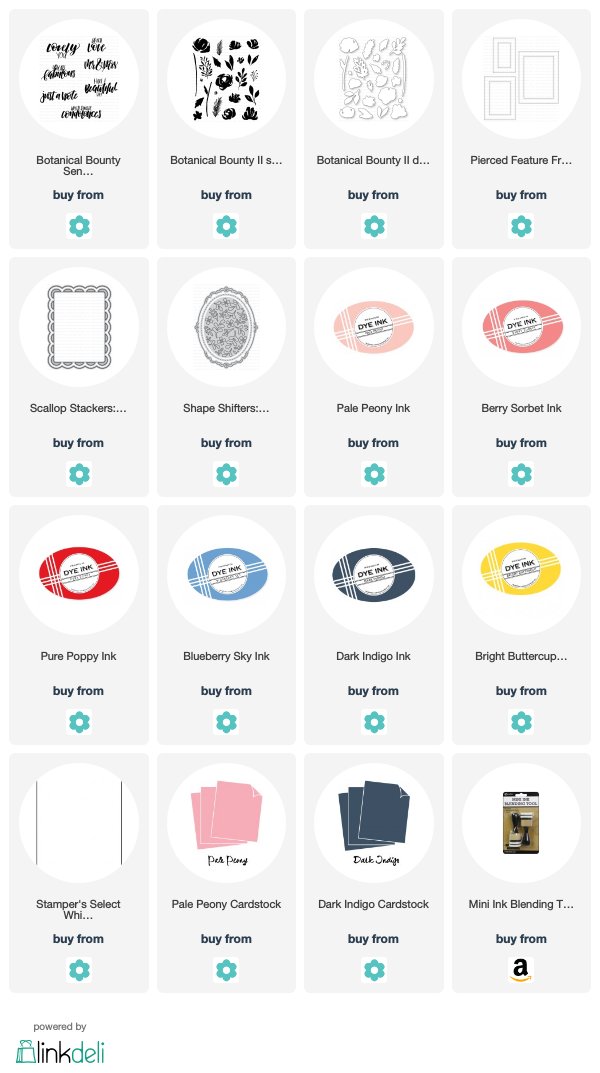 And here are the bright, juicy layers for my final card today!  I've been wanting to pull out the adorable Fruit Salad dies again this summer, so I cut some bright layers to mix with the Fruit Salad Pineapple -- scallops and red and white plaid, what could be more summery?   
All of the inserts from the Mix & Mat die collection fit so nicely under the medium sized frame from the Pierced Feature Frame set - so perfect for layering!  And isn't it just awesome that that same frame fits so perfectly over the Scallop Stackers: Medium die?  I just love that!


I cut the medium Scallop Stacker from white cardstock, and diecut the Mix & Mat: Plaid design from the middle of it, then sponged the scalloped edges with Pure Poppy ink.  I cut the inside of that pierced frame from Pure Poppy cardstock and layered it under the plaid to make it stand out.


I cut the pineapple from colored cardstocks, and sponged with inks to give it some shading and depth.  The sentiment was stamped and diecut using the Botanical Bounty Sentiments set.  The whole works was layered over a Noted: Simply Stitched A2 card base, cut from white cardstock.  So fun and summery!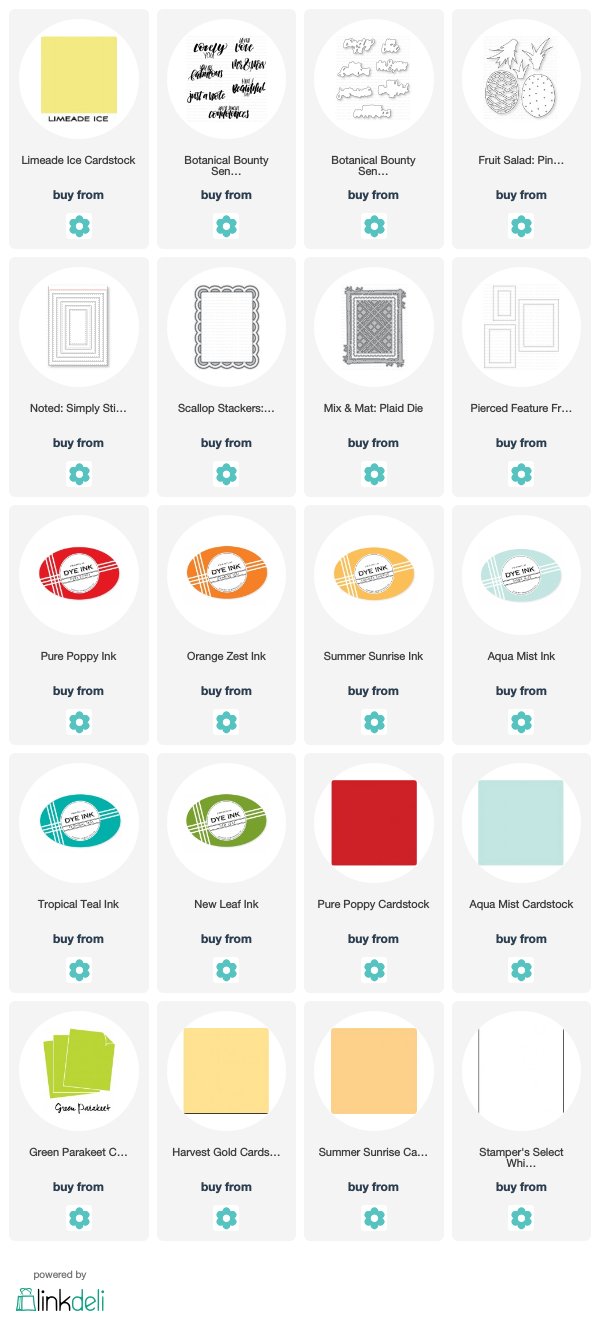 Thanks for stopping by today!  I hope you enjoyed this little dive into layering with some of the great Papertrey Ink die sets!  Are you inspired to pull out some of your die sets and see what combinations you come up with?  Link me up in the comments if you give this a try!