I had so much fun playing around with my new Kaboom! set and the effect of using mica powders on dark cardstock, that I really wanted to experiment more with that technique paired with different images. Today I'll show you a few cards that combine mica powders with dark backgrounds for really dramatic, shimmery effects, even using some two-step stamps for a really cool look!
The powders I'm using in my post today are Dragon Dust powders, (affiliate link) purchased from Amazon.  There are many similar products on the market, but these are what I used.  These are just loose powders, and do not having a binding agent, meaning if you mix them with something that doesn't have an adhesive element, such as water, the powders won't stick to your project once the water dries.  So to use these powders, you need something to make them stick.  I found Versamark didn't give me great results.  It didn't seem to hold enough of the powder to make a real impact, but using an Essential Glue Pad worked great, both for stamping and stenciling. Also, I found it helps to make sure the glue is nice and dry before brushing off the excess powder.  Heating it with a heat gun works really well for maximum coverage and depth of color. 
I'll be sharing a few quick process videos on my Instagram account, so if you get a chance, stop by and check them out!
Now for the projects!  This first one uses the mica powders with the wave stencil from the Sun & Surf stencil collection to create a vibrant, summery background in shades of blue.  I started off with a panel of Dark Indigo cardstock, and sponged over the stencil using an ink blending sponge and an Essential Glue Pad.  
Dark Indigo is one of my favorite Papertrey cardstock colors -- it's just so deep and rich.  The metallic powders over the top just really make it pop!  And it's so simple to do.  


I cut an oval window from my finished panel and layered it over a white card base that was stamped with a sentiment from the Fruit Salad Sentiments set, and framed with a few clusters of the individual blooms from the Seasonal Borders: Summer set.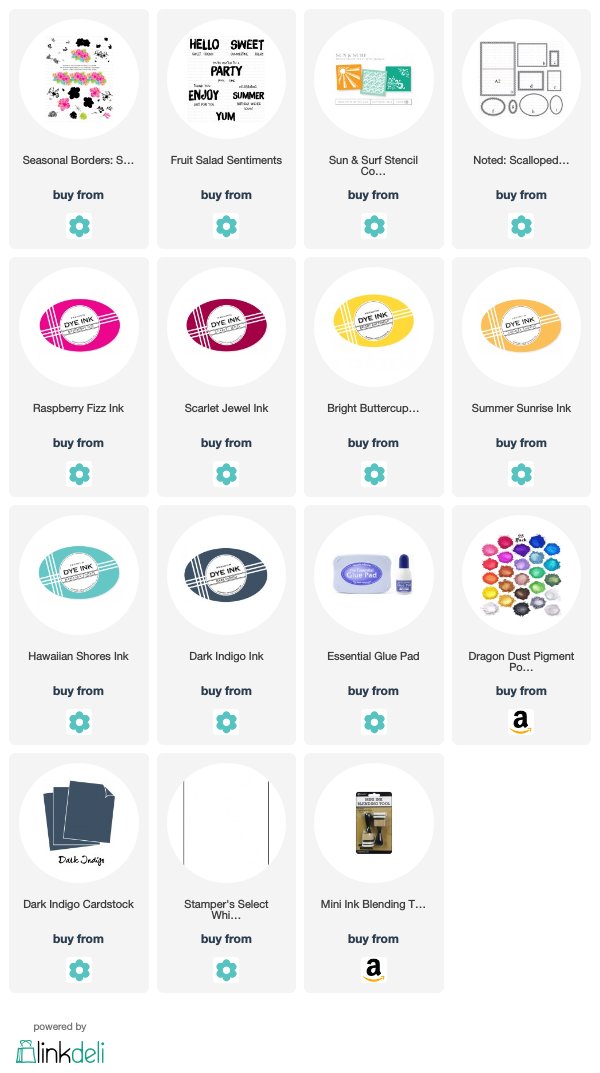 My next project uses the flower and leaf images from the Stitching Garden set, done on a panel of True Black cardstock.  I did all of the stamping with an Essential Glue Pad and worked just an image or two at a time so that the glue didn't dry too much before I was able to brush the mica powders onto them.  
I played around a bit with adding more than one color onto a single images for an ombre-like look, which I did on the triple-leaf clusters.  I brushed some blue/green and gold/green onto the same leaf and really like how that turned out!  I also added some white dots to my background, just to add some lightness and vibrancy.


For the sentiment, I diecut a stitched oval from one of the Noted sets, then sponged a bit of glue onto the top portion using an ink blending tool and the Essential Glue pad, then brushed some gold mica powder onto that area.  The sentiment is from the Penned Elegance set, which I cut from black cardstock and heat embossed it with gold powder, just to make it stand out a bit more from the rest of the shimmery gold.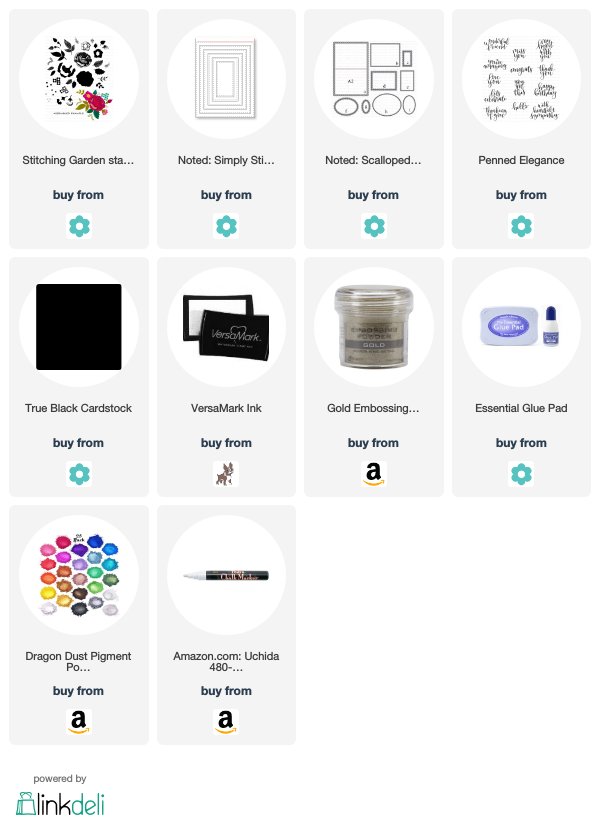 My last card is probably my favorite of the bunch!  I think the balloons from the Birthday Balloons set are just perfect for this technique.  Plus, the two-step images allowed me to play around with doing two different powders, and it turned our really fun.
I started out by stamping the balloons, one at a time, with a glue pad, then brushing over them with the mica powder.  I worked on them individually, but allowed them to overlap eachother.  I really like how they look in the areas where they overlap and you can kind of see the mix of colors.  

When I was finished stamping the balloons, I went back and stamped all of the dot and star details, again using the glue pad.  When you stamp over the original image coated with powder, it does remove most of the powder where you stamped the second step, allowing you to add another color over the top.  I stamped all of the second step details, including the strings, then coated everything with a silvery-white powder.    I added a simple diecut "hooray" sentiment, cut from gold adhesive paper.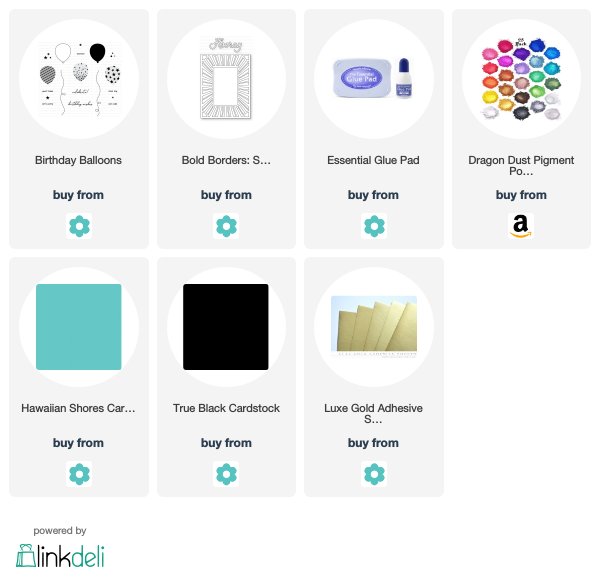 I hope you enjoyed this little experiment with mica powders!  Something really fun and different to play around with!