This year we've started a brand new blog series over at Papertrey Ink called Simple to Spectacular.  Once a month we pull out an older set and 3 design team members feature a series of cards using that set.  They range from Simple to...Spectacular -- giving you some ideas for simple ways of using a set, to designs that incorporate more layers or techniques. 
This month's featured set is Rosie Posie.  This is one of those classic Papertrey sets, loved by so many of us!  It was fun to pull out again.  Let's start with my simple card.  I used just a white cardstock base and stamped a bouquet of the flowers onto it.  Just a simple, one layer card.
I achieved some depth and a sort of layered look by stamping the leaves in pale colors in the background.  I used Soft Stone and Mint Julep inks, then stamped some in the deeper Ocean Tides ink, layered over the top.   I stamped a birthday sentiment from Sentiment Staples: Birthday over the top of the finished bouquet.


My intermediate design is basically the same layout, I just incorporated some diecuts and popped them up with foam to create actual layers instead of just layered stamping.
I also added some layering to the actual card base using the Noted: Scalloped A2 Vertical die, which was used to cut the front panel, then layered over the Stormy Sea card base.  I also sponged some Aqua Mist ink onto my background.  The same sentiment was used here, this time stamped onto a Tag Sale: Quilted banner, layered over the bouquet.


For my "spectacular" card I decided to pull out my watercolors and add a bit of personal touch by hand painting some leaves and berries in the background.  Watercoloring flowers can be a bit tricky, but leaves and such are pretty simple to do -- so why not cheat a bit and combine a bit of watercoloring with a bit of stamping.  Here I let my stamps do the work for me when it came to the flowers.  For my leaves, I used paints in colors similar to what I used in the stamping on the first two cards - pale grays and greens.
I again used the Noted die to cut the front card panel, then layered it over a Stormy Seas card base.  The sentiment is the same again, from the Sentiment Staples: Birthday set.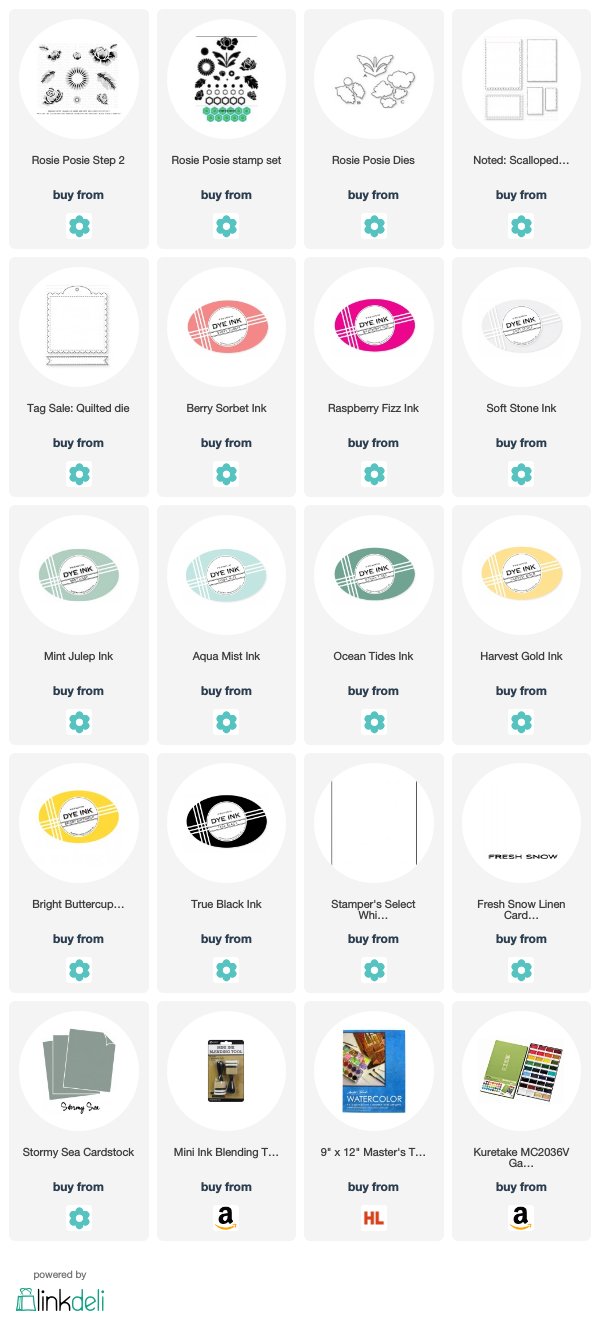 If you'd like to see the other Simple to Spectacular takes on the Rosie Posie set, you can visit the Papertrey Ink blog, or hop over the Lizzie and Laurie's blogs!