It's Day #3 already of our big Papertrey Ink February release and 11th(!!!) Anniversary celebration!!  I might sound like a broken record, but if you haven't stopped by the blog to check out the contests and giveaways, you're definitely going to want to do that!  I can't believe how many goodies and gift certificates will be given away for the celebration, so be sure to get in on the action!
**edited to add - today's challenge is a color challenge!  You can find all of the info on the Papertrey Blog -- if you want to use my color palette, here are the colors for that!  You can see the other designers' color palettes on the Blog!


Lots and lots of new products to showcase today!  Everything I mention as "new" in today's post will be available beginning at 10pm ET only from Papertrey Ink.  
Instead of trying to describe all of these great new products, I'm going to just jump right in to the projects!  
Today's first project uses a new series by Lizzie called Glorious Globes.  This month she's releasing a Basics set, along with the February set, which features some sweet floral globes.  I used just the Glorious Globes Basics stamps and dies on my card here.
I stamped a cluster of three globes, embossing the globe bases with gold powder.  I clustered them inside of a stitched circle die, which is part of a new line of dies I'll be releasing this year called Shape Shifters!  If you liked the Mix & Mat series, this new set will be right up your alley.  It's just like Mix & Mat in that there are three dies for each set - an outer frame, inner stitched border, and an inset pattern of some sort.  For this project I used just the stitched border from this month's set, which is called Shape Shifters: Circle 1.  


Inside the stitched circle, I did a bit of watercoloring using colors to match the stamped globes.  I embossed the birthday sentiment along the bottom, which is from a new set called Sentiment Staples: Birthday (another great new series coming your way this year!)


My next three cards use some new sets I have coming out this month.  This first one uses a new floral set called Lilies of the Field...and it's filled with, you guessed it, lilies!  I used one of my favorite techniques of combining masking and stenciling.
I used the stencil from the Herb Garden set.  I arranged some lily diecuts, cut from just lightweight printer paper to use as masks, and arranged them inside the stencil. Then I sponged over the stencil and diecuts with Aqua Mist ink.  I pulled away the diecuts and stamped the lilies in the white spaces that were left.  

The sentiment is from another new set that will be officially introduced a little later in the countdown, called Garden of Faith.  This sentiment is from a favorite old hymn.  I stamped it in black and Tropical Teal inks.


My next card is perfect for Easter morning!  I started of by sponging a panel of linen cardstock with Bright Buttercup ink, then put down the Sunburst Stencil and sponged a bit more of the same color.  I left the center of the panel white, to give a focal point and a nice place to stamp my sentiment. 
The lilies can be stamped in so many different colors, from bright and bold, to soft and pretty, like I did here.  I did not stamp the outer/base layer of the lilies, instead I left that white, and just stamped the detail layers for a soft look.  The larger leaves I used here are from a new set Lizzie has coming out that you'll be hearing more about very soon.


The sentiment I used here is from the older Easter Alleluias set, stamped in Smokey Shadow.  I added several rainstones, which I think look like pretty dew drops on the leaves.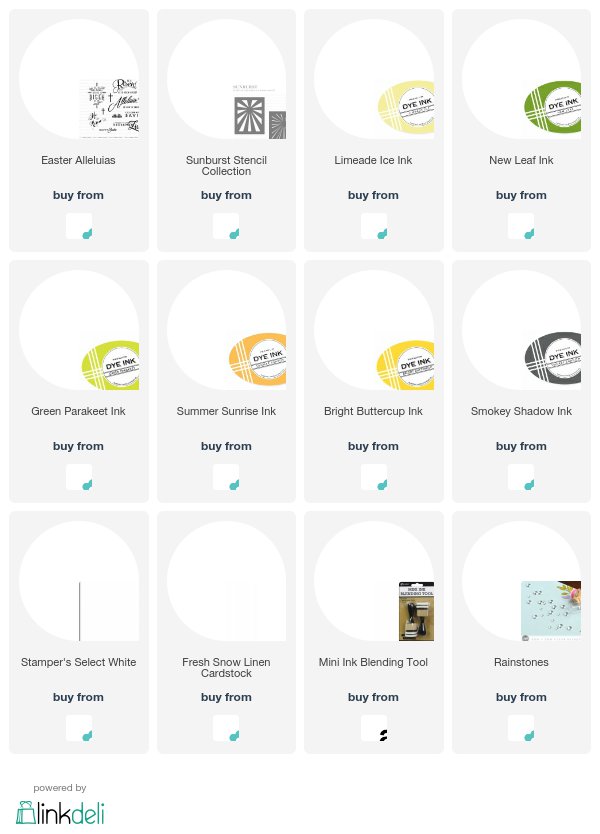 Lastly today, is a card that just screams spring!  I combined a few other new sets I have coming your way this month -- Seasonal Borders: Spring and Words to Live By: Kindness.  Words to Live By is a new series I'm doing this year, all based on words that exhibit qualities we all strive for in our lives.    The first word in the series is Kind/Kindness, because goodness knows we all need more of that!   
There is a $5 mini stamp set, and a small die set that contains the words "kind" and "kindness".  This card started with a card base sponged with Aqua Mist and Tropical Teal inks, then layered with a Cover Plate: Nesting die.  

Those pretty lilacs and leaves are from my new Seasonal Borders: Spring set, which you'll be seeing more of a bit later in the countdown.  I stamped them in shades of bright pink and purple and arranged them on the branches of the Nesting Cover Plate.  

 It's beginning to look a lot like spring!  Well, at least here on the blog...not so much when I look out the window.  I hope you're enjoying all of the big February release and anniversary festivities...more tomorrow!!